You never get a second chance to make a first impression, and that adage still holds true even when
trying to sell a home
in a community as upscale and beautiful as San Mateo, CA. If you're considering improvements to your San Mateo real estate, you'll want to make sure your home looks its best to maximize its selling price and protect your investment. Here are some easy ways to boost your home's curb appeal.
Take inventory
Before grabbing a paintbrush or power washer, take a careful inventory of your home's exterior spaces. This can be as simple as starting at your driveway, clipboard in hand, and making a checklist of any imperfections, you notice as you walk into your home. Try to be objective and look at your home from the buyer's viewpoint. Are there cracks in the sidewalk? Are bushes or trees a bit overgrown? Do you notice any faded or damaged siding, mortar, or gutters? What does the lawn look like? Are the doors and windows inviting?

For simplicity's sake, divide your list into must-do, should-do, and could-do, so it's not overwhelming. Prioritize your list and analyze what minor repairs or upgrades you can do yourself and which would be best suited for a professional. While many upgrades may not cost anything more than time, you don't want to pinch pennies here. If your home's first impression is lackluster to future buyers, you may be leaving money on the table.
Analyze the competition
This is another step many people planning to sell a home miss—research other homes for sale in San Mateo to determine how your home stacks up against the competition. Future buyers will be comparing your home to other homes for sale in San Mateo, so you will need to see which details could set yours apart. Sometimes, minor improvements can make a significant impact. Now, it's time to get started with seven simple ways to increase the curb appeal of your beloved home.
Upgrade walkways
Ensure that the walkway, steps, and front porch are in pristine condition. This would be a good time to replace any worn or dated walkways or steps. There are several attractive and elegant walkway styles depending on the design you're aiming for.

Those with a more traditional taste might be interested in a poured concrete walkway lined with pebbles. Another great option is concrete pavers in a geographic design. For an elegant look, natural stone or clay bricks walkways can turn out beautifully. Consider a curved walkway if you're seeking a more intriguing look. These functional hardscapes can elevate your home's curb appeal while providing a framework for trees, shrubs, and other landscaping.
Trim or replace trees and shrubs
Speaking of landscaping, one of the quickest and least expensive ways to instantly boost the value of you San Mateo real estate is with a landscaping makeover. If you have healthy plants but they're a little overgrown, it's time to trim them back or hire a professional to clean them up. If trees or shrubs are unhealthy or unattractive, consider replacing them with new, vibrant plants. Clean out old or dying flower beds and replace mulch or stone around trees and bushes. Then, visit your local nursery to find some bright seasonal flowers to give the front of your home a pop of color. You can also achieve this by adding stylish new planters bursting with colorful blooms or neatly sculpted bushes.
Clean it up
Over time, all homes collect dirt, mold, and grime. It's often so gradual that homeowners don't even notice it until they decide to power wash. That's when the dramatic difference is undeniable. A power washer can take years off the exteriors and walkways of your home. Power washers are high-pressure, so take care of shutters, gutters, and window frames to avoid causing damage that you'll have to repair. Make sure roofs are clean and gutters are clear and undamaged as well. Consider hiring a professional to clean windows inside and out, too. It's also a great idea to clean up your lawn by clearing it of leaves, old weeds, and debris.
Repaint or touch up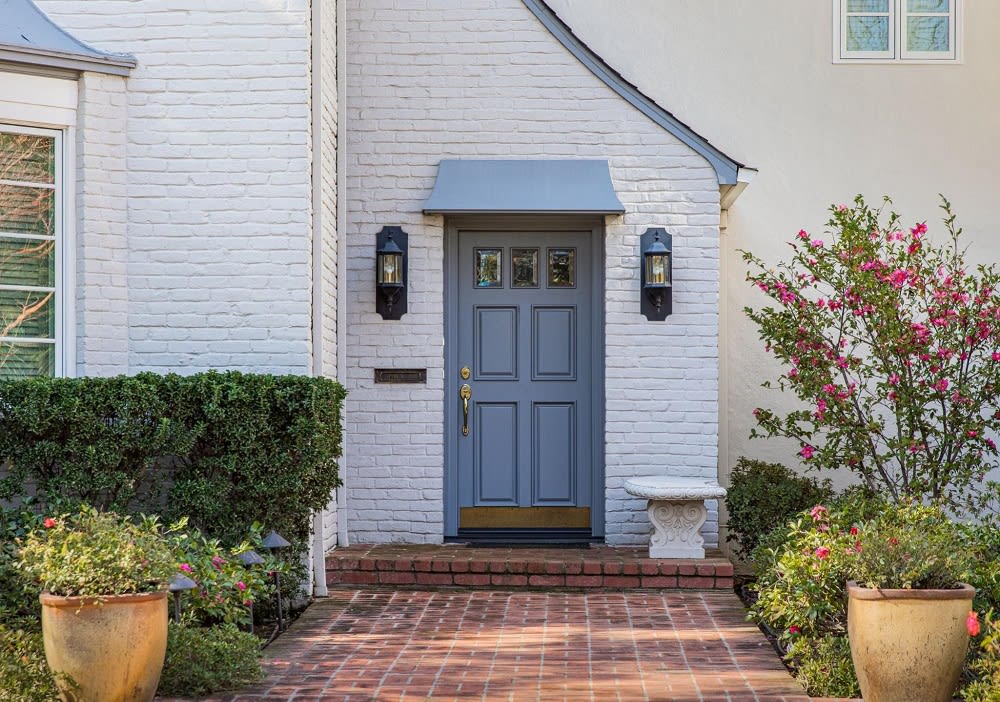 Photo courtesy of homescopes.com
Once you have cleaned your home's exterior, you can now assess any areas to be repaired or painted. In some cases, this may mean repainting the entire exterior, especially if the home is several years old and hasn't been repainted or touched up.
Experts don't always agree
on how often to paint a house, but recommendations range from every four years to 15 years. A lot depends on the original paint quality and the exterior forces of nature and weather in your area. While San Mateo homes for sale in sunny California won't see a lot of rain damage, they surely encounter plenty of wind and ultraviolet rays.

In general, if the pain looks faded or worn, a complete exterior repainting may ensure that the final result is beautiful and uniform. If you are lucky and just need to do a few touch-ups, you may also want to consider adding a fresh coat of paint to the front door. This contrasts with the rest of your entry and can be an eye-catching component that attracts future buyers. If you need some inspiration, here are some of the current front door paint colors trends.
Light and bright
While you're giving your entry a facelift, you may also want to look at the outdoor lighting so that your home will shine bright among the other San Mateo homes for sale. Adding or replacing light fixtures is relatively easy and inexpensive, and the update can pay actual dividends in terms of ROI. Your home will look amazing with outdoor lighting that showcases your home's architectural details, landscaping, or other design elements. When designing your lighting layout, consider the walkways on your lawn, which can stand out with a bit of illumination at night. If you have a porch with stairs, consider LED step lights for beauty and safety.

Beyond replacing existing fixtures, you may also want to add downlights, smart lights, or hardscape lights to your home for a real "wow" factor.
Driveway upgrades
The driveway serves as the grand entryway leading up to your home, so it must be impressive and inviting. Make any needed repairs to your driveway if it's cracked or worn down. Consider adding a stone, brick, or paver border for some beautiful contrast. This custom detail will give your home an upscale look, especially if it helps tie the driveway in with your other hardscapes and walkways.

If your garage door is a standard builder's special, you can upgrade it with several stylish and functional garage door options, ranging from modern frosted glass to vintage carriage house models and everything in between.
Details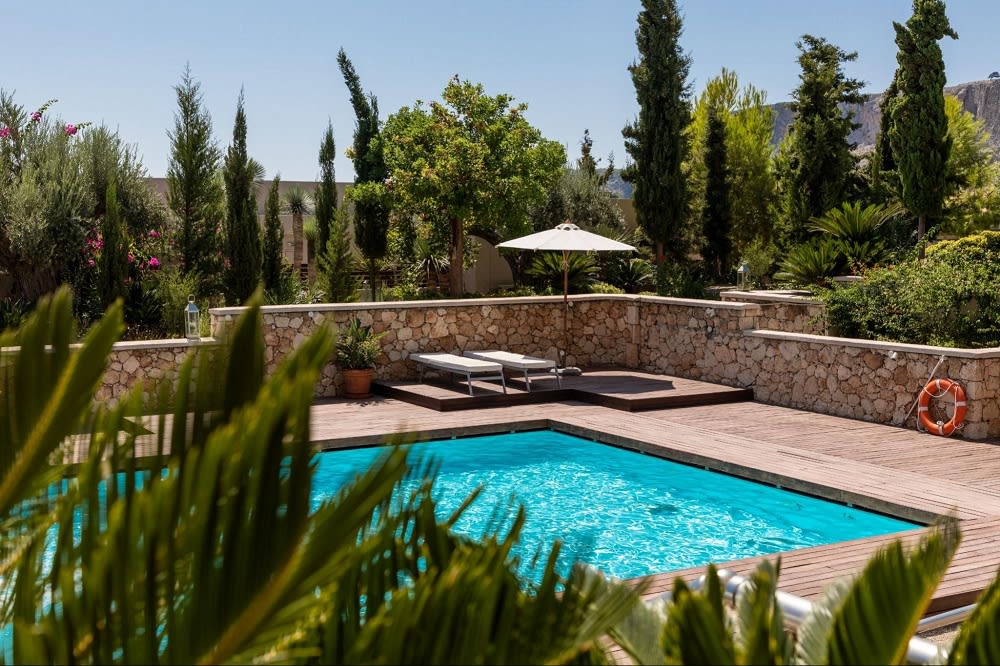 One of the easiest ways to quickly and inexpensively elevate your home's curb appeal is to pay attention to the details. Replace the house numbers. Add a charming welcome mat or bistro table to the porch. Top the table with a colorful pot of flowers or an artistic vase. Set up a bird feeder or sing-songy wind chimes. Put a seasonal wreath on the door. If your porch or stoop is large enough, convert it into a comfortable outdoor space with cozy furniture or inviting seating. Give your home a festive flair with elegant, professionally installed lights or lawn ornaments if it's close to a holiday — just don't go overboard with decorations!
Consult a professional
For more helpful information on preparing homes for sale in San Mateo, an experienced professional like
Michele Oravec
can be a valuable resource. Michele knows the in-demand San Mateo real estate market inside and out, and she is well-equipped to guide sellers when they're ready to list their homes. With her assistance, your stunning house will be standing out on the market in no time at all.